The Future of Carrying
Your Business Cards digitally
Carry your business card conveniently on your smartphone at all times, allowing you to view and track instances when and where you shared your card with others.
What is Webotic.one Business Card?
How does it works?
Go Digital Today!
Modernize Your Company
Find a balance between the life you lead, the impact that life and your choices have on the planet. If you and your company really strive to go green and make a change, it should be a thought-through process.
An online business card shown to your customers via a link or app will certainly be more environment-friendly than dozens if not hundreds of printed cards that will turn into trash quicker than you can say 'green'.
Various methods to deliver your card to clients
Flexible possibilities to present your business card to in many scenarios. Our smart phones are always with us and having your business card in your smart phone enable you to not say "Sorry, I do not have my business card right now". By using our mobile app you will be able to transfer your card to your client by letting them,
QR code to be scanned by your client
NFC tapping your mobile on the clients mobile
Share you card via messaging software or email
Having your business card in your mobile as an image is not convenience way to manage. Our mobile app provides many features that enable an organization team manage their cards clean and easy.
Single tap to choose your card presentation through QR Code, NFC or sharing. Also you can choose to show you profile to client or directly let them save your contact in their contact book. The mobile app works in online and offline environment to make sure you can deliver your card at any moment without failure.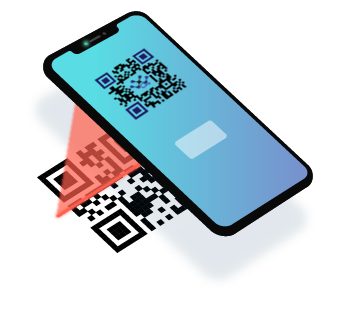 Share Collogues Cards to Clients
Have access to contact information of all team members from your mobile app. When you want to refer a client to one your team members, you can easily access their business card and share their full contact to your customer.
You cans search and transfer the contact data by QR Code scans, NFC transfer and share via messaging application.
Cerebralized Card Management and Reporting Dashboard
The human resource team can have access to administration dashboard to create a new card as an employee is joining to the company. The onboarding process will be easy, The employee will receive an email then they just need to download the app and scan the QR code at your email to login to the system. The administrator will have comprehensive reports from each individual card scans, or the cards that is shared by others. Also over all report on total scans, employees with highest mount of scans and more will be available through the dashboard.
Webotic.One offers the smartest business cards that empower your business and build better business connections worldwide. Turn all your contacts into potential leads digitally with a single scan. We are operating under Perceptive Webotic Design LLC, located and registered in Dubai, United Arab Emirates. We have been operating for years and focus on delivering top-notch business solutions to our customers
Our company is a collective of amazing people striving to build delightful products.
We at Webotic.One focus on providing you with ultimate value. We understand your business needs, which is why we aim to take your business to the next level. Our team at Webotic.One has years of experience in building innovative products that uplift your business. We understand the value of business connections. Therefore, we spend countless hours and effort to create products that take your business to new heights. We strive to deliver superior customer value and assist you in growing your business digitally. We at Webotic.One believe in core customer values. Our professional team has been trained to cater to your needs and provide authentic solutions. We simplify your business so you can relax and focus on the more crucial aspects of your business.
Our top-notch business cards encompass cutting-edge technology that changes the way businesses connect. We believe in sustainability. With our digital business cards, we aim to mitigate paper business card pollution and provide you with sustainable business solutions. With Webotic.One, you will no longer need to carry dozens of paper cards. You will be able to play your part in making the environment green with our sustainable business cards. By shifting to Webotic.One, you will gain access to tons of perks that paper cards do not offer. Our full-fledged business cards are a complete package. With our Webotic.One applications, you can perform several business functions digitally and hassle-free. You can gain insights into your business functions at the tip of your hand. You can effectively manage your business and analyze your operations. Our business app analytics allow you to monitor your services and control your costs. Webotic.One have been a game-changer in the digital business world by merging the entire business operations into one. Manage your team and welcome new employees swiftly. You can easily onboard an employee and get detailed insights. You can also manage and analyze your business functions – all on a single platform. Share your contact with your potential client with a single scan. Elevate your business connections now with Webotic.One.
Instead of having us talk about ourselves, why don't we see what our clients have to say.
Always I had issue when I was visiting an exhibition. I had to carry tons of cards with me and at the end of the day, I would be out of business card. But now with Webotic.One I do not face this issue at all.
We are using the codes on our customer service desk. Our contact is always available to our customer and we do not need to print tons of business cards every year for them.
Very easy to use. Sometimes when I want to refer a customer to our sales person, I can show the card to customer. The card provides all information including the image of the person which makes it easy for client to find and connect to our sales.